MAY 2020 Update: Can you help our COVID-19 shelter extension?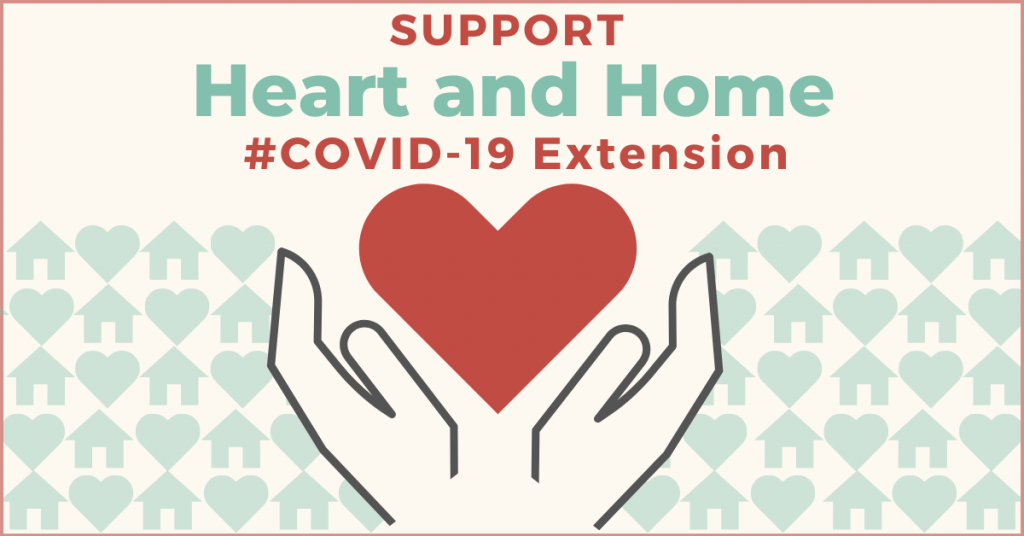 Your donations via our online form, Venmo, Benevity, or paper check will make safe shelter for our vulnerable neighbors possible!
As of 17 March 2020, Santa Clara County is under a "Shelter in Place" order to combat the spread of COVID-19. Heart and Home Collaborative has expanded our shelter offering from overnight shelter to 24 hour a day shelter for our participants and extended our shelter season to match the County health order. We are generously supported in this by our host site partners, the Unitarian Universalist Church of Palo Alto, as well as the City of Palo Alto, our dedicated shelter staff and directors, and a committed group of volunteers. To be successful, this effort will require $42,000 to fund our groceries, sanitation supplies, and staff salaries through the current forecasted end of Shelter in Place on May 31 plus a short transition period. We need your help! Please see below and choose your best donation method: Venmo, Benevity, an online donation right here, or a you can mail us check. Thank you so much for thinking of the needs of our vulnerable neighbors in this health emergency! – Mary W. and the Heart and Home Board.
Heart and Home Collaborative is a registered 501(c)(3) nonprofit. Our federal EIN is 46-2219062. Donations may be used at our discretion, for any purpose consistent with our mission.
Choose how to donate:
Option 1. Venmo us at HHCollab
Option 2. Donate through Benevity workplace giving
Many local employers, such as Apple, Google, Microsoft, and HP will match employee donations to registered causes using the "workplace giving" platform Benevity. This is GREAT because it provides additional funds for our work. However, the process of releasing funds through Benevity takes approximately 60 days. *IF* possible, we would love for you to make your donation via check mailed to us and then use Benevity to "Request a Match" for your generosity. If that's not possible, go ahead and click that donate button on the Heart and Home COVID-19 shelter extension project instead. If you aren't sure if your employer has a matching gift program, you can look them up via this website or your internal employee web site.
Option 3. Send us a check!
Our mailing address is:
Heart and Home Collaborative
1611 Stanford Ave.
Palo Alto CA, 95051
Note that this is our *mailing* address where we collect mail on a regular basis. No one onsite at this address works for Heart and Home so please do not address your questions to any of the staff. If you have questions, please email us at info@hhcollab.org.
Option 4. Donate right here by credit card
THANK YOU!
Your donation will help Heart and Home Collaborative operate our winter shelter for women experiencing homelessness in and around Palo Alto, California. We operate annually during the cold months from December through March and are seeking to expand our shelter season. As a community-run and funded organization, we rely on contributions like yours to keep our programs running. We are so grateful to have you as part of our support crew!